Anna Claire "A.C." Little has never been one to let other people or her circumstances dictate what she is capable of achieving.
While many golfers grow up around the game, Anna Claire had other interests. She didn't begin seriously playing the sport until her freshman year at Auburn High. That didn't stop her from becoming a state champion her senior year.
Nobody who starts that late can surely go on and play at the Division-I level though, right? Don't tell A.C. that. As the sophomore at Troy can attest, it is not only possible; it is her story.
"It was easy for a lot of people to say I couldn't do it," Anna Claire said. "Because with something like that, it is kind of hard to pick up. I just wanted to prove everyone wrong who didn't think that I could make it to the collegiate level."
Overcoming the odds has been a theme for Anna Claire, and on a rainy Sunday this past August she was able to walk away from a horrific car accident and just a couple weeks later post the best finish of her career at the first collegiate event of her sophomore season.
On Thursday, Anna Claire was recognized for that ability to beat the odds – and frankly play some terrific golf – when the Alabama Golf Association named her the Alabama Amateur Women's Player of the Year in the first season she was eligible.
"It really is such an honor," Anna Claire said. "I was so excited, and honestly shocked, and a little taken off guard when I got the call and they told me.
"It is just something I dreamed of, and it is cool to see that dream become a reality."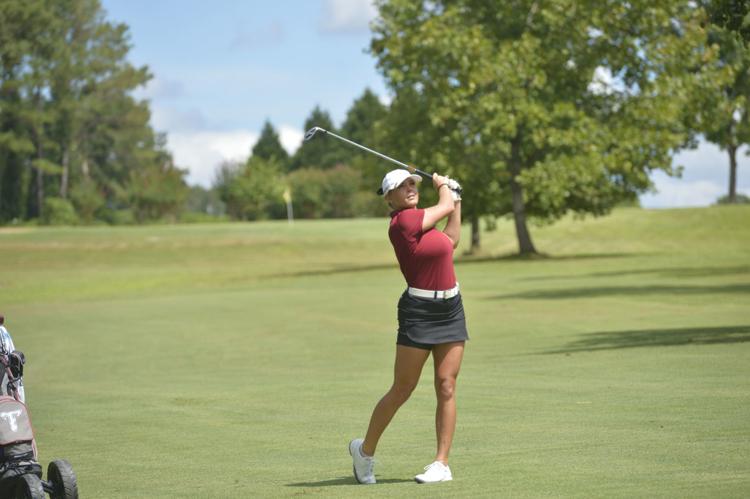 Finding her sport
With a family that thoroughly enjoyed the sport, Anna Claire thought golf may be for her from an early age. She took golf lessons as a young child and spent time on the course with her father Keith Little, an avid golfer himself.
"I just kind of did the golf for fun because I wanted to spend time with my dad," A.C. said.
It didn't take Anna Claire long to realize that her passion was for another sport. Her parents also let her participate in gymnastics, and she was hooked.
With the hectic practice schedules and competition slates of each sports, an eight-year old Anna Claire was forced to choose one or the other. The choice wasn't difficult, and she chose gymnastics.
Anna Claire participated in gymnastics throughout her childhood, but with high school around the corner and with injuries and the grind of competitive gymnastics wearing on the 14-year old, she made another choice: to give up gymnastics.
Without gymnastics but still feeling her competitive drive, A.C. knew she was going to need to pick up another sport to fill the place that gymnastics had left in her heart.
"I told my parents, 'I know it's so late, but I want to do something. I want to be athletic,'" Anna Claire said.
She knew one thing through: it wouldn't be golf.
"My dad, like as a joke, said, 'Why don't you pick up golf?' I just thought it was so funny," A.C. said. "I was like, 'Oh no, I'm not going to play golf. That's awesome, no.'"
Her father wasn't going to accept that result without at least making his pitch, and he took his daughter to Dick's Sporting Goods to at least look at some clubs and take a couple swings.
One swing later, both Keith and Anna Claire knew that this golf thing might be something worth exploring.
"He handed me a driver, and he still has the video," Anna Claire said. "I hit it and … I really hit it. My dad and the guy working there just kind of looked at me."
Growing in the game
As a freshman going out for the Tigers' golf team, Anna Claire's experience with the game was limited. She had her youth lessons, which worked well in the past and the pointers she had from her dad, but nonetheless, A.C. was a natural.
"Initially, playing catch-up was definitely difficult," Anna Claire said.
As Anna Claire grew better and better, so did the Auburn High team. With Anna Claire and her best friend Elisabeth Preus leading the way, Auburn capped A.C.'s senior season with its first state championship in girls golf since 2010.
"We won by one stroke, and that was also another thing that was crazy to learn from," Anna Claire said. "It is the little things that matter in golf. One shot really can make a difference."
It was the perfect end to a completely unpredictable high-school career for Anna Claire, but she wasn't done with golf yet and golf certainly wasn't done with her.
Troy head coach Randy Keck saw potential in the Anna Claire and liked her gymnastics background as a complement to her golf game.
"Her body strength and her body awareness are just miles ahead of most girls her age," Keck said. "I think that is one of those things that can't be overlooked is just her athletic ability from gymnastics and working so hard from that. I think that is what created an environment for her to develop fast."
Keck and the Trojans had a senior-laden roster in 2019 with nearly half the team being seniors, but Anna Claire was still able to attend and play in several tournaments in preparation for a bigger role this season.
This summer that preparation continued with three amateur tournaments in June and July, which eventually resulted in her being named the Alabama Women's Amateur Player of the Year.
"They couldn't have given the award to a better quality person and a more well-deserving person than Anna Claire," Keck said. "She is just a special, special girl."
The wreck
On the way back to Auburn from LaGrange, Ga., where her younger brother was scheduled to play in a baseball tournament, Anna Claire and her boyfriend, Taylor Jones, were driving in the same rain that had caused the tournament to be canceled when they experienced the scare of a lifetime.
As they came over a hill, they came face-to-face with a pileup in front of them. Jones attempted to slam on the brakes, but in the wet conditions and with minimal notice, the efforts were to no avail. The car collided with the back of an 18-wheeler and was ripped to pieces.
Miraculously, Anna Claire was able to walk away front the incident – which left the vehicle hardly recognizable – with just a piece of glass in her finger. Jones made it out but with a laceration on his arm and no memory of the event.
"It just changes your perspective on a lot of things," A.C. said. "We are big in our faith, and we believe that the reason and the way that we survived was not a coincidence. It is because the Good Lord was watching over us that day."
Although the injuries from the experience healed relatively quickly, the experience has made a permanent impact on Anna Claire, one her coach certainly notices.
"She has become very, very — I'll use this word — she has become very intentional with people and very intentional with her work," Keck said. "What I mean by that is, I think some of that stuff — not that she took it for granted, but I think after the accident she realized that all of that could have been taken away from her in one five-second deal."
Bright future
With the wreck less than a month behind her, A.C. was back in her element — on the golf course competing for her team.
"It is not always going to be easy, and it is not always going to go as you plan it," Anna Claire said. "You just have to learn to be flexible and go with it."
In her first round back, she turned in her best performance of her collegiate career with a 4-under 68 on the opening day of the USA Intercollegiate in Mobile. She finished that three-day event 1-under and tied for seventh, and the point was made: A.C. wasn't going to let anything slow her down.
As the spring season for Troy golf approaches, Anna Claire has gone from being the youngster on the team to one of the veterans. With one junior, four sophomores and four freshmen — including Preus, who joined her friend in Troy after adding a team and individual state title her final season at AHS — the Trojans don't have a senior among them.
Anna Claire is looking forward to taking on some of the leadership responsibility this season.
"She has just become a true leader on and off the golf course," Keck said. "She is exactly what we are looking for in our program. Anna Claire is just one of those girls who does everything right.
"She is just the face of our program."
With Anna Claire still being relatively new to the sport, Keck believes the possibilities for this sophomore from Auburn are limitless as the team prepares to get back on the course February 17 in the Amelia Island Collegiate in Fernandina Beach, Fla.
"I just think her ceiling is absolutely unlimited," Keck said. "She is a strong kid, hits it long, has a good short game, can do everything. There is no reason she can't end up being one of the top players in college golf. She is that talented."
It is a wise move for Keck to have that faith in Anna Claire, because if she has proven anything so far, it's that she doesn't just handle expectations well — she tends to shatter them.