When it comes to Jaylen Stinson's physical abilities, it's probably easier to list what he doesn't do instead of all the things he does.
Stinson is a standout safety for the Opelika defense and barrels into ball carriers with the strength of a player much bigger than him. He gets offensive snaps at slot receiver and makes defenses pay with his 4.37 40-yard dash speed, which can often lead to touchdowns for the Bulldogs. He also demonstrates his quickness on special teams, fielding kicks and punts and leaving would-be tacklers shaking their heads.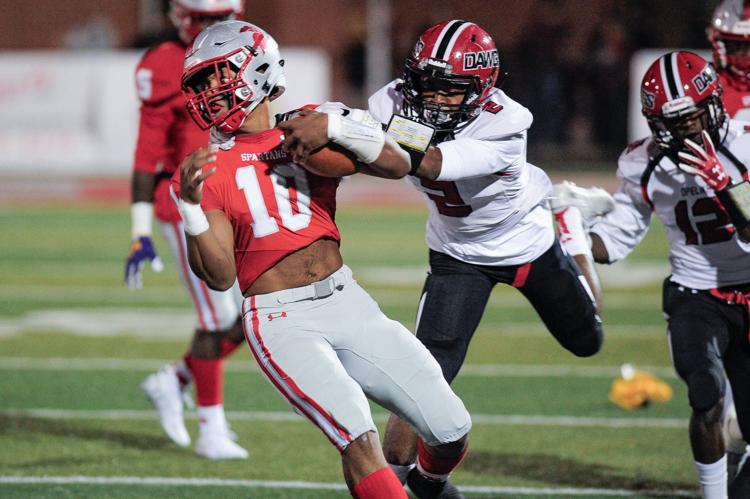 Even when football is out, Stinson doesn't slow down. He competes on Opelika's indoor and outdoor track teams as well, which has included great performances followed by jumping right back into football.
That quick transition back into football was no different this year in Stinson's lead-up to his senior season. Stinson helped the Opelika boys team finish third in the outdoor season thanks in part to his first-place javelin throw before he turned his full attention back on the gridiron.
"It's been crazy. Right after track season, me, my brother (Jarell) and a couple of teammates have been training hard for this upcoming year," Stinson said. "I feel like this year we have a great shot at winning a state championship. I'm very excited."
Stinson had developed into one of Opelika's premier players in part by being exposed to high-pressure situations as a freshman. Then-defensive coordinator Erik Speakman threw Stinson into the fire during the Bulldogs' playoff run in 2016, inserting the ninth grader into a starting role in the team's nickel and dime defensive packages.
Stinson stood up to the challenge, and with his help the defense gave up 23 points or less in the playoffs and reached the state championship game. From there, Stinson cemented a spot at safety alongside Jamias Presley for the 2017 season and further established himself as one of the Bulldogs' top defenders.
Stinson continued his stellar play for Opelika in his junior season. He was a consistent playmaker on the back side of the defense and ended the season with 66 total tackles and two tackles for loss. Additionally, he had two receptions for 76 yards and one touchdown, with the score coming on an 80-yard reception against Auburn High.
"He's just one of those kids that's just an electric player," Speakman said. "He's always in the right spot at the right time. A lot of that has to do with how much film he studies. Of course he's a phenomenal athlete, so that's another plus for him. He checks all the boxes that you want in a safety here at Opelika, and hopefully whatever he plays in college he'll do the same for whatever college he chooses."
Stinson's play has caught the attention of college coaches, leading to scholarship offers from schools such as Nebraska, Purdue and Duke. The coaches are split between playing Stinson on offense or defense, but to the rising senior it doesn't matter — he just wants to play at the next level.
Stinson admitted the recruiting process has been crazy this offseason but added he's tried to take it in stride and continue working hard. His biggest objective this offseason has been adding weight to his 5-foot-8 frame, which will give him that extra power when he comes up against the run.
Stinson is anxious to get the season started, and Speakman has made no secret about his importance in a very experienced Opelika secondary.
"He'll be back there with four other seniors. Out of our starting five DBs, we'll have four seniors and a junior," Speakman said. "He's probably played the most out of all of them. I'd probably just say his experience — factoring that in — is going to be very important for us."
Now that he is a senior, Stinson plans to be a leader and to set the example of how to play the game the right way. Stinson has seen growth among this Opelika team since last season, and he has every intention to lead the Bulldogs on a championship run.
"I feel like we've improved. More people are stepping up. Last year, there was a lot of selfish players. I feel like we're just doing a better job of keeping each other together this year," Stinson said. "A lot of them guys out there, they look out for me. I just try to be the best leader I can to them."