LAFAYETTE — Not many sixth-graders across the country find themselves leading their varsity basketball teams this season. Still fewer also have the expectations that come with doing that on a team routinely competing for state titles.
That is the exact situation Springwood point guard Tori Patillo is facing this season. So far, it's been so good for the young floor general.
"I try to make sure I'm a leader even if I'm the youngest," Patillo said.
Patillo and her Wildcats advanced to the finals of the Chambers Academy Cystic Fibrosis/Christmas Tournament on Friday with a 44-37 win over their rivals from Chambers Academy.
"It feels good," Patillo said. "Because, the last game we lost and it wasn't too good of a game. We played harder this game."
The game was a tight battle throughout, with the Rebels grabbing a 12-8 lead at the end of the first quarter on a 5-0 run with a 3-pointer from Lizzie Keebler and a bucket from Lexi Smith.
Springwood was quickly able to find an answer, and it came from the Wildcats' youngster. Patillo cut the margin to 18-15 with a 3 early in the second quarter.
"She knows how to play high-level basketball," Springwood coach Lisa Ciampi-Sampson said. "She is just showing maturity as a sixth grader that you don't see very much."
After the Rebels answered with a two, Patillo scored again and then stole the ball and found senior McKayla Barber for a basket.
Senior Andie Martin gave the Wildcats the lead moments later on a layup. The rest of the half was a back-and-forth affair with the teams going to halftime tied at 24.
"They help me a lot," Patillo said of the team's senior leaders. "When I mess up, they bring me back up because I get down on myself."
Chambers Academy led 27-26 early in the third quarter, but Springwood took command of the game with an 8-0 run, highlighted by four points from Martin and a stellar pass from Patillo to freshman Tesia Garrett-Hammett for an old-fashioned three-point play.
"Coach Lisa gave us a speech, and she told us to work harder and play harder like we usually play," Patillo said of the third-quarter spurt.
Barber's bucket gave Springwood a 34-27 lead.
"It was a very physical game in the first half, and we haven't seen that quite yet," Ciampi-Sampson said. "So we challenged them. They kind of hesitated in the first half and didn't like that style of play, but they adjusted in the second half. I was very proud of them defensively."
Chambers Academy managed to whittle the lead down to five early in the fourth quarter but climbed no closer as Springwood took the seven-point victory.
Barber led Springwood with 16 points, while Patillo had nine and Martin added eight. Chambers was paced by Britten Stephens with 12 points.
The Wildcats will face Autauga Academy for the championship at 4 p.m. on Saturday. Chambers Academy draws LaGrange in the third-place game at 1 p.m.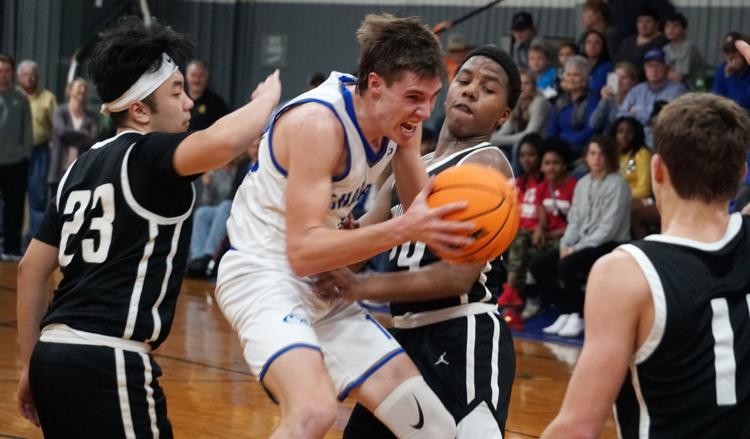 Rebel boys top Wildcats
The Chambers Academy boys gave their home crowd plenty to cheer about in the night cap, as they rolled to a 47-29 win over Springwood to punch their ticket to the championship game.
"We are going to get better and better offensively as the year goes, but we are going to hang our hat on getting on their tail on defense," Chambers Academy coach Jason Allen said. "I thought we did that tonight."
The Rebels will play Lowndes at 5:30 p.m., on Saturday for the title. The Wildcats will face LaGrange at 2:30 p.m. in the third-place game.
In a first quarter which saw Rebel point guard Payton Allen out-score the Wildcats by himself, Chambers Academy jumped out to a 12-4 lead. The senior guard had six of his game-high 26 points in the opening quarter.
"They are going 84-feet at him the whole time," Coach Allen said of the pressure defense on his son Payton. "He is a tough kid. He is really tough. … I think he likes playing physical. I think he kind of feeds off that."
It was far from a one-man show for the Rebels though, as Raphe Daniel finished with eight points. Coach Allen admitted that he'd like to see the Rebels work the back into the post more.
"Raphe is unbelievable," Coach Allen said. "He is a horse down there. I apologized to him after the game. I said, 'Son, we got to get you the ball more.' We are out here, we are 0-for-20 from the 3-point line. You are in there dominating, and we are still throwing them up like it is the first shot of the game."
While the Rebels controlled the game from start to finish, first-year coach Lisa Ciampi-Sampson says there are plenty of positive signs from her team learning how to compete.
"They have got to believe that they can do it," Ciampi-Sampson said. "We are not there yet, and you saw that tonight. When things get tough, we have to learn to toughen up and just play our our game."
Springwood was led in scoring by senior Coleman Hull with seven points.
Coach Allen was happy with the victory, but he hopes to see his team continue to grow as the season rolls along.
"We're just coming off Christmas break, and we have giblet gravy on our fingers, I believe, and cranberry sauce," Coach Allen said. "I was really proud of how hard our kids competed. We do that every night and just really do a great job of playing team defense. We kind of just let offense be the gravy on the biscuit."