BEAUREGARD — The Tallassee Tigers made history on Tuesday night in Beauregard, becoming the first boys basketball team in school history to win 23 games in a season. They surpassed the 22-win plateau set in 1969 with a 67-60 road win over the Hornets.
"It is huge," Tallassee coach Keiven Mixson said. "That was one of our team goals at the beginning of the year, so we can check that one off.
"It is something the city of Tallassee can be proud of. These kids have poured their heart and soul into this program."
The home underdogs kept the game close through the opening quarter and were within 23-18 early in the second, but a 6-0 Tiger run led by four quick points from Jamicah Humphery opened the margin up to double figures. Tallassee (23-4) closed the half on an 8-2 run and headed to the locker room with a 40-26 advantage.
The Hornets (9-13) climbed back within single figures on several occasions in the second half but never were able to get any closer than six points.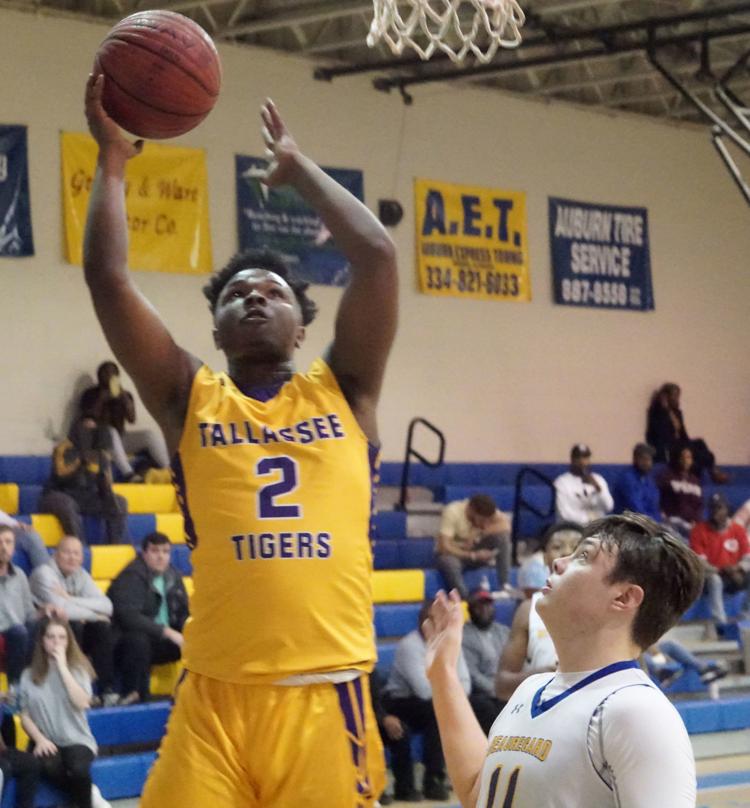 "To go on the road and win, it says a lot about the guys' focus and determination," Mixson said. "I'm proud of them."
A last-minute charge from the Hornets provided the final seven-point margin.
Humphery led the Tigers with 17 points, while Tavarious Griffin added 16. Antavious Collins and Jalyn Daniels each chipped in 11.
For Beauregard, Jay Sinclair led all scorers with 23 points, including 14 in the fourth quarter. Zebediah Baird added 13 points.
Tallassee will look to add to the wins record in the regular-season finale on Friday when the Tigers hit the road again in Beulah. Beauregard's regular season wraps up on Thursday in Reeltown.
"We are playing pretty good, but I still see a lot of areas we can improve," Mixson said. "We've got to tighten things up. If we don't, a really good team will beat us."
Beauregard girls grab fourth win
Coach Dewayne Welch needed just one word to describe Beauregard's 50-47 win over Tallassee on Tuesday night in Beauregard.
Basketball season can play mental tricks on you when you match up against the same team multiple times in a season. The Hornets (4-12) faced one of those mental hurdles on Tuesday playing the Tigers (3-19) for a second time — the first game resulting in a 19-point loss in Tallassee.
"They've been improving each and every game," Welch said. "I see bits of improvement every game, and I just had to pull it out of them tonight."
The Hornets got off to a strong start, but Tallassee senior point guard Lindan Oliver changed that late in the opening period.
Oliver started with her own offense, rattling off four quick points to turn a 7-6 Beauregard lead into a 10-7 Tallassee advantage. After Beauregard answered with a bucket, Oliver went to work getting her teammates going.
An 8-0 Tallassee run featured three assists by Oliver and four points from Jy Teriuna McKinnon and Ajaida Griffin.
Catherine Royster ended the quarter with a 3-pointer off an offensive rebound to put the Tigers up 21-11.
Beauregard quickly cut the lead back down to six, but the Tigers had found their 3-point range and worked the margin back up to 30-16 at halftime on 3-pointers by Ayanna Cole, Oliver and McKinnon.
Oliver quickly fouled out in the second half, and that opened the door for Beauregard to make its move.
"I just told my girls to keep going at it, keep going at it, keep going at it," Welch said. "Keep playing hard and things will eventually come our way."
The Hornets cut the lead to just 36-34 midway through the third quarter on a bucket from Tamarrah Bryant. Tallassee was able retake control late in the period with two points from each McKinnon and Cole and take a six-point margin into the fourth quarter.
The fourth quarter was all Hornets though. Beauregard's lone senior, Bryant, cut the Tiger lead to two just a few minutes into the quarter and in the final minute, the Hornet defense refused to even let the Tigers into the frontcourt.
"When (Tallassee's) two best players went out of the game, (Beauregard) smelled blood and they just kept going after it," Welch said.
After a Tiger 8-second violation, Beauregard freshman Lavechia Whatley hit a runner to put the Hornets up for the first time since the first quarter.
"Last year at this time, she was playing junior high basketball," Welch said. "I went up to her at the beginning of the year and told her I was going to need her to play. She said, 'Coach, I got you.'
"I guess she smelled it. She drove in, threw it up and hit it."
Bryant added another two points off a Tiger turnover to provide the final margin of victory.
Ashanti Thomas and Bryant led the Hornets with 17 and 16 points respectively. McKinnon led Tallassee with 18.
"In the area tournament, we are going to be the four seed and we a going to have Valley," Welch said. "We are going to do the same thing we did against them. We are going to play man-to-man, full-court from beginning to end. We are going to play, play hard and see what happens."