The Hugley and Sims families were among the many Lee County survivors who lost house and home to the March 3 tornadoes, but Samaritan's Purse has collaborated with local churches and nonprofit organizations to rebuild their homes at no cost.
"No one is saved alone," said Tom Vannoy, Samaritan's Purse project manager for the Alabama home replacement program. "To put our lives together after tragedy, sometimes it takes a lot of people working together, and there's a good group here in Lee County that are helping these people get their lives back together. We are pleased to be in a partnership with them."
First Baptist Church of Opelika and East Alabama Medical Center's MEND attended the first home dedication June 25, for the Widger family on Lee Road 38 in Beauregard.
The churches and nonprofits involved continue to support storm survivors as Samaritan's Purse, a Franklin Graham Ministry organization, provides new homes equipped with amenities, including washers, dryers and storm shelters.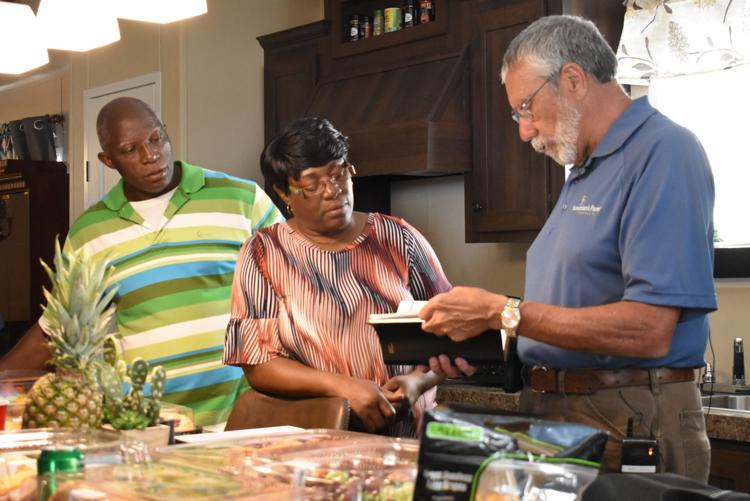 Ronnie and Brenda Hugley were surrounded by friends and family Thursday for a home dedication ceremony on Lee Road 39 in Beauregard.
Vannoy handed the family a personalized Bible inscribed with the names of volunteers and inspriational quotes, ensuring the Hugley family was supported in this trying time.
"I would like to thank everybody for coming out and be a part of the dedication," Brenda Hugley said. "When we called the first day, they said, 'I'll be there.' We are so grateful."
Her family was thankful for the donations of local churches and apartment accommodations from MEND, she said.
Vannoy's team and MEND prepared the site for a new mobile home complete with new skirting, furniture, appliances, heating and air conditioning.
"I want to thank God that I am able to be with you face-to-face today," Ronnie Hugley said. "It could have been the other way around. Before the storm got here in this area, it had already taken 10 lives above this street.
"God spared me to see this day. I thank each and every one of you that poured their heart out to help me and my wife."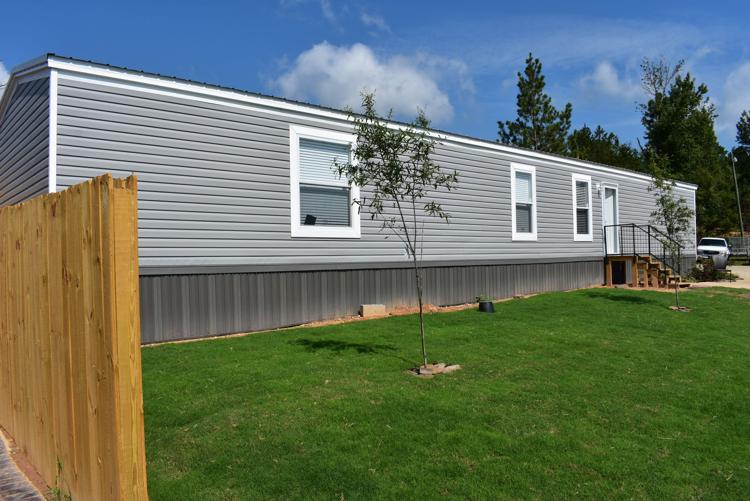 Johnny and Loretta Sims received a home dedication Friday on Beauregard's Lee Road 39.
"I want to welcome everyone who came out to this day in the life of this family that's getting back to a normal, or what the new normal is going to be," Vannoy said. "(We) asked if Johnny needed some help, and he said, 'There are folks here that need it more than I do.' That really touched me. There wasn't a home here. Everything was gone."
Vannoy presented the Sims family with a plaque, listing site preparations, the mobile home and storm shelter as 'paid in full,' and after a round of applause, Johnny Sims shared his gratitude for the gift.
"We couldn't reach out to everyone, but God already knew your heart," Sims said. "Everybody has reached out. I'm not going to specify who, but it's been God through them, working for us. I thank everybody from down to the bottom of my heart. A blessing comes from God."
First Baptist Church of Opelika mission's ministry assistant Lorri Schoonover brought more donations to the ceremony on behalf of the church.
Miller Homes, Inc. owner Garry Miller provided the mobile home and expertise for the installation, Vannoy explained.
"I'm thankful to be a part of it, dealing with people like Johnny," Miller said. "With these families, it's amazing the thankfulness you receive and the love you feel. They care about others.
"It's a blessing to deal with good people. Lee Road 38 and 39 has a lot of good people that are patient. This storm was March 3. We are talking a long time to Aug. 9 for these people that are waiting on a home."
Vannoy emphasized Samaritan's Purse has a goal to install a total of 50 mobile homes and storm shelters.