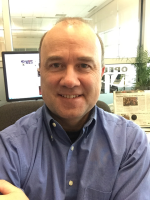 TROY TURNER
Bio

Troy Turner is editor of the Opelika-Auburn News. He previously served as the news editor in New York for the nation's second largest newspaper company, and as the senior editor at several other news entities around the nation. He is an Auburn alum.
State Sen. Randy Price, a longtime leader in east Alabama's Republican Party circles, and his wife, Lee County Revenue Commissioner Oline Pric…
A 54-year-old man walking late-night hours on Interstate 85 was struck by a vehicle and killed during the weekend, according to Alabama State …
Opelika police Chief John McEachern says he believes he is on a path to recovery in a personal fight with COVID-19, and that the coronavirus s…
A single-vehicle crash at 6:25 a.m. Sunday claimed the life of a Roanoke man.
Four people were shot when repeated gunfire rang out in north Auburn shortly after midnight Saturday night, leaving at least one in critical c…
The Salt Lake Tribune was on the phone, and a possible exclusive story was on the line.
One year ago, the pain and anguish from Auburn police officer Will Buechner's tragic death in an on-duty shooting incident only a week earlier…
A Friday night, two-vehicle crash near Opelika claimed the life of a 39-year-old Phenix City woman in Lee County.
Auburn Coach Gus Malzahn during Tiger Walk prior to the Auburn-Mississippi State game on Sept. 28, 2019, in Auburn. (Todd Van Emst/AU Athletics)
View all